The 15th Golden Rod qualifer took place on 28th Jan with  a full 60 sell-out field including DSJAC member Tony Johnson.
Conditions  were far from pleasant with a stiff NW wind and cool temperatures with driving rain for most of the competition.
The good news was the resident bream and skimmers fed well all around the complex but bonus carp still became the target to decide the overall result.
Winner on the day was Paul Wright (Dynamite / H&H) who drew peg 19. Paul fished the hybrid feeder with waffters at distance landing 4 good carp and 12 f1's to weigh 68-08-00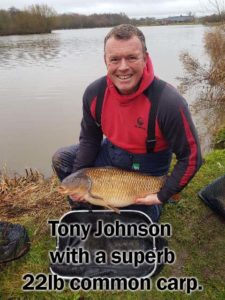 Second on the day was Tony Johnson (Deeping St James AC) who drew peg 103. Tony fished the hybrid feeder fished at around 60m with pellet landing a superb carp of 22lbs plus a number of other smaller carp and F1's to finish the day with 63-10-00.
If you would like to learn a few 'Tips and Tricks' to improve your match or leisure angling from one of our top rods come along to a 'Club Day'
Sign up for the next 'Club Day'  - here